The Goods Shed Showman's Wagon
The Goods Shed Showman's Wagon, Badlesmere Court, Badlesmere, Kent ME1 30NL
Glamping at campsite or camping ground The Goods Shed Showman's Wagon
A fully restored 1930's Showman's Wagon with a countryside setting and a deep-rooted connection with all things local.
The Good Shed Showman's Wagon is set around 10 miles from Canterbury, on the edge of the Kent Downs. It is a wonderfully preserved and restored 1930's travellers dwelling. Inside it still features original gaslight fittings and a log-fuelled range, while the dark wooden finish and patterned windows cement its 30's era feel. An old-style kettle waits to be boiled on the hot plate, a simple pleasure that invites you to cocoon yourself away for hours here in winter months, while during summer, it's the gorgeous setting that excites. Apple trees shade the outside water tap, chickens cluck along the edge of the nearby hedgerow and, from your perch sitting in the Wagon doorway, glampers have a beautiful view across the meadow, shared with six grazing Southdown sheep.
Gallery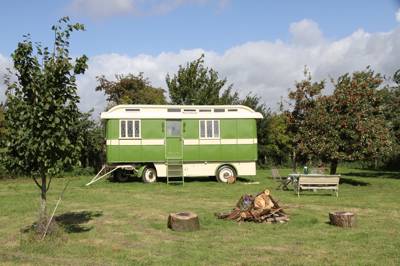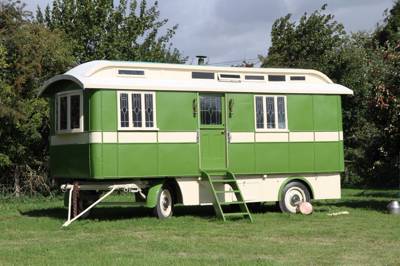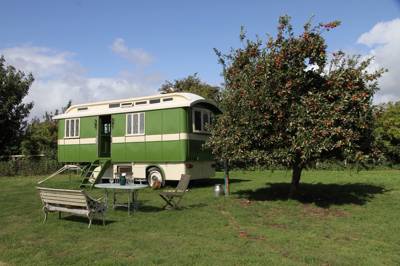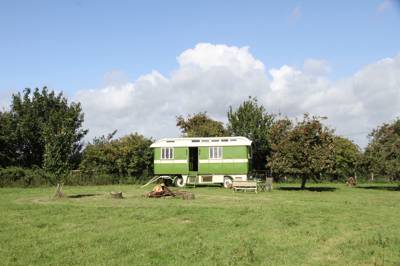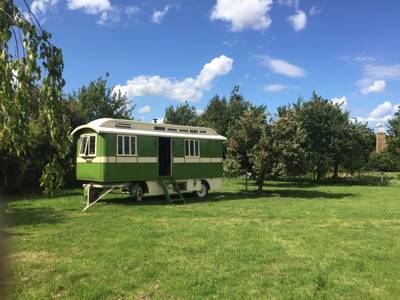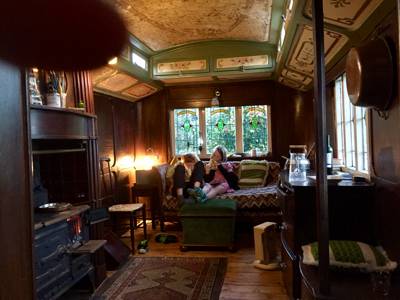 Reviews from Cool Camping
Wow! Magic, magic and more magic. Thank you so much
Where to start. Breathtaking from the moment we arrived. Clucking chickens, horses & Southdown sheep were our first acquaintances - and how welcoming they were! Followed by a very warm welcome from the owners and a show round. We dipped under the apple trees and into the enclosed paddock where before us, the most beautiful wagon - a place we were delighted to call home for a couple of nights. Stretched before the wagon, our own enclosed space overlooking the farm and fields beyond but with the privacy we required for our romantic/family get away (celebrating our first wedding anniversary with toddler in tow...!). A campfire laid out with plenty of kindling and wood, a sweet outdoor dining space and benches to huddle on in the evening. Loo and delicious hot shower just a few meters away - what a treat to shower outdoors and in a converted horse box too! Magic at every turn. Inside the wagon, there is everything you could need. Blankets for getting cosy, speaker for some Radio 6 evening wind down/slow morning sounds and a range ready to be cooked upon. We toasted marshmallows on the campfire and cooked a BBQ, before moving indoors to drink wine and play cards by gas light... just perfect. The nipper loved being amongst the fields and the animals, roaming to his hearts content - an amazing experience for him also. We can't wait to come back again - as soon as possible! Utter bliss from start to finish. Easy going, stress free relaxation in the most beautiful setting. Thank you!!
The perfect cozy place to relax with nature
We stayed a night at the wagon and felt welcomed by the lovely scented candles, biscuits & everything that had been carefully thought out for our arrival. The wagon itself is beautiful and clean. It has a lovely cozy bed and the owner had made sure you had everything you'd need for a romantic stay (cooking utensils, bottle opener, candles… ) The shower was incredible. I took a hot shower overlooking the fields and watching the horse. Really quirky but well done. We went for a nice walk to the local pub where the staff were very friendly. I honestly couldn't have wished for a better romantic and relaxing mini break to reconnect with nature and spend time huddled away with my boyfriend. I would love to return.