Fernwood Glamping
Fernwood, Ringwood, New Forest, Hampshire BH24 3JN
Glamping at campsite or camping ground Fernwood Glamping
Secluded, peaceful glamping on the edge of the New Forest.
It is through a wooden gate and down at the end of a large garden that the shepherd's hut at Fernwood is found. Facing south and over looking the fields grazed by deer, it is hard to imagine you are only a mile away from the friendly market town of Ringwood. Inside, it sleeps up to four (though it works well as a romantic break for couples), with a comfortable double bed that can be converted into a dining space and two pull out singles for children (aged 4 -10). At one end a cosy wood-burning stove provides heating throughout the year, with a free supply of logs included. Alternatively, on a summer evening, guests may use the fire pit outside. Fairy lights and lamps are provided as there is no electricity. Guests have a choice of using our compost toilet or a more traditional one outside the garage. A shower will also be available for guests to use at the house.
Gallery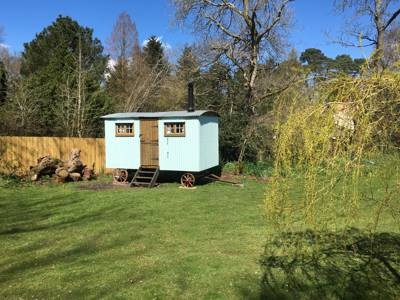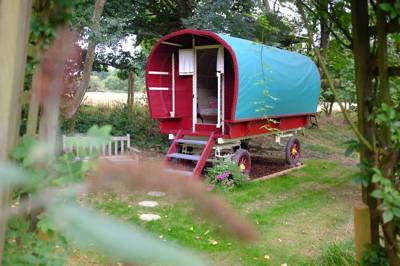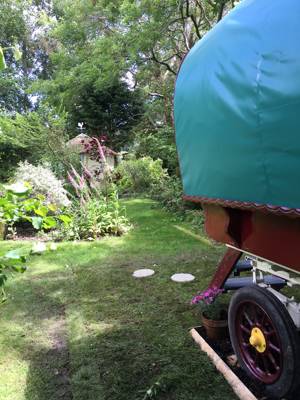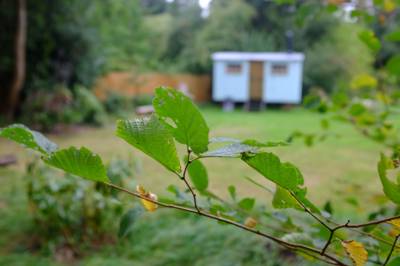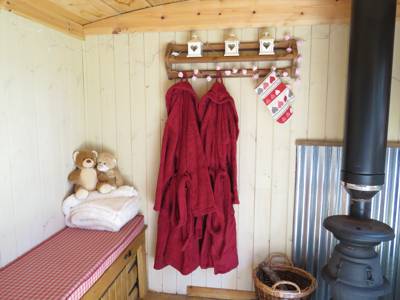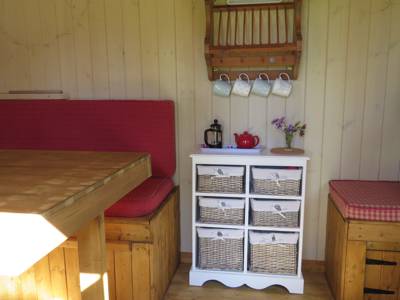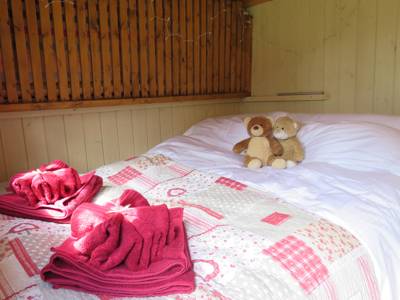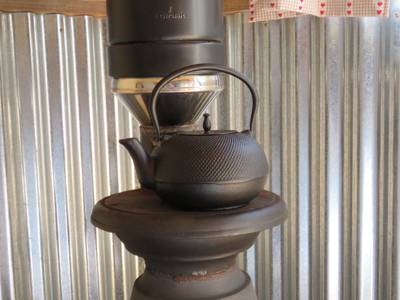 Reviews from Cool Camping
A great stay
My 4 year old son and I had a great time here. Rachel had provided everything we might need, and was a very thoughtful and attentive host. We loved toasting marshmallows by the camp fire and the trampoline and treehouse kept my son occupied for hours. The breakfast hamper was fantastic, with more than enough for us. Facilities such as the compost toilet and shower were immaculate. Would definitely return and would highly recommend, especially for those with children.
A Special Place
I spent two nights in the shepherd's hut at Fernwood, with my three children. It's a really quirky place to stay but also very comfortable; Rachel has thought of everything you might need, so straight away you feel pampered and like you are on holiday. This is far more luxurious than camping and the hut very cosy and warm. The garden is beautiful; the children spent so much time on the big trampoline and playing in the deer hide. They couldn't believe the breakfast hampers; a huge breakfast, presented with loads of thought. Although you are essentially sharing a really big garden with the family, they all were very welcoming and the hut felt very private. We'd love to go back but next time hire the gypsy caravan too!
perfect retreat at fernwood
We wanted to add our amazed thanks for the magic Rachel and Jonathan pull off at Fernwood - off grid but with all mod cons, authentic, but cosy and completely comfortable, right in the heart of the forest but everything spotlessly clean. It is a stunning find! Even when it rained it was magnificent: we lit the wood burner, made a pot of tea, and read books. The attention to detail in the Shepherd's hut was so appreciated. Thank you both!! We also both love Kiera the collie cross, hiding under large plants in the garden from rain-fear. Would whole heartedly recommend. x
lovely holiday at Fernwood
Just a short review as we want to say a massive thank you for a lovely holiday to Fernwood, Rachel and Jonathan were brilliant they were very welcoming and helpful. We had the beautiful gypsy caravan for 3 nights, it was so peaceful and quiet. We had some lovely bike rides through the new forest with the help of Jonathan's navigation and some brilliant days out at peppa pig world (25 mins drive) and moors valley (30 mins bike ride). Also the breakfast hamper were scrumptious  Ollie, Fern & Indiana
Magical stay in a Gypsy Caravan
What a great find! Rachel and Johnathon are incredible hosts for this idyllic glamping experience. We are a family of four- 2 girls under the age of 5 and we stayed in their Gypsy caravan for 2 nights. Rachel and Johnathon thought of all the small details to make our first glamping experience a great one! Such as marshmallows to toast on a fire come the evening, snuggly rugs,a gorgeous tea set for a morning cup of tea and fairylights to light up the inside of the caravan after dark. We even saw deer from the forest grazing in the field behind. As novice campers we were a little nervous of the compost toilet but they kept it really well- no smell and a nice clean environment. They were ideally located right in the New Forest so we went for a wonderful walk and saw the wild horses and cattle roaming. We also went off to the beach for the day which was a short car journey away. We would truly recommend for a wonderful stay.